Euan Ferrier's Baptism
On Sunday 26th October 2014,  many family and friends of David and Kirsty Ferrier were able to join us for the baptism of their son Euan.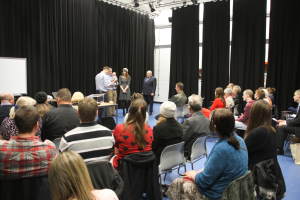 Peter Loughridge preached on the subject of 'A Happy Home', based on Psalm 127 verses 3 to 5.  Together we saw from this Psalm that a child is a gift from God (v3), a child is to be shaped and sent for God (v4), and that blessing comes through a child (v5).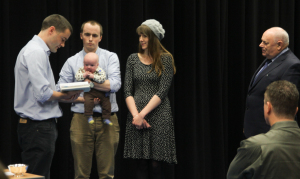 It was another special and joyful day in the life of our church family, and we thank God for it.  We pray for David and Kirsty as they raise Euan.  We give thanks for Euan's safe arrival and his health, and we continue to pray that God will bring Euan to know Him.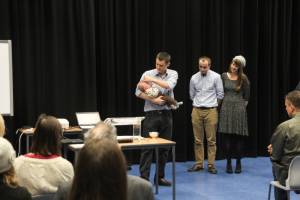 Behold, children are a heritage from the LORD, the fruit of the womb a reward. Like arrows in the hand of a warrior are the children of one's youth. Blessed is the man who fills his quiver with them! He shall not be put to shame when he speaks with his enemies in the gate.
Psalm 127 v3-5